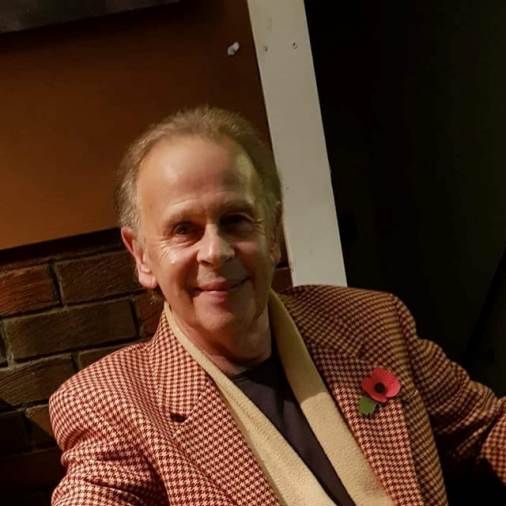 Jon Camp
Basses/Taurus Pedal and keyboards
Jons interest in music was already developing by the time he was ten years old and his parents bought him his first guitar, a Selmer 555 acoustic which he treasured greatly.
Influences then were the instrumental groups of the time such as The Shadows, The Outlaws, The Ventures and the Tornados to name but a few.While at school Jon formed a Guitar Club against a great deal of opposition from the teachers there-apart from his music tutor-Mr. Gill
By this time armed with a Watkins Rapier 33(a Stratocaster copy of the day) and a Watkins Dominator amp it was time to hit the stage!
Jon's first group '7th Dimension' covered all the hits of the day with Jon on lead guitar and vocals. The main problem here was that a lot of the gigs the band played were in public houses and as he was only fifteen at the time Jon spent a lot of the time hiding behind the amps from which came disembodied guitar solos which nobody seemed to be playing
As luck would have it another more popular local group-'Pepper' were looking for a bass player and Jon got the gig using a friends bass even though he had never played one before!
It was at this time that Jon acquired the nickname 'Spider'-this coming from the fact that he insisted playing the bass as a lead guitar-a trait which would prove to be very useful in the coming years!'Pepper' became the backing band for many American artistes such as 'The Drifters, The Flirtations, Ben E. King, Gary 'US' Bonds and The Four Tops.
After moving through other bands, Jon joined The Nocturnes.The female singers went on to form the nucleus of what would be The New Seekers. 
One of the more bizarre things that happened during Jon's time with 'The Nocturnes' occurred when they were auditioning for a new girl singer. A young lady from Bolton in the north of England took the stage and did an extremely good rendition of Blood, Sweat and Tears 'Spinning Wheel'- her name was Annie Haslam-she didn't get the job but Jon would meet her about a month later when he went to audition for the bass players gig in a band called 'Renaissance'- she'd been successful that time and so was he!
Jon had seen the advert for 'Renaissance' in the Melody Maker and although the bands name wasn't mentioned it stated that a classical approach and ability to handle complex arrangements was essential-just what he was looking for.
No less than eighty bass guitarists had come and gone before Jon walked into the basement studio at Miles Copeland's house in London. Here he met Annie and John Tout and was given the music to a partially formed piece that would become 'Prologue'. Everybody clicked immediately and the obvious potential of the trio was evident even with the absence of any kind of percussion!
Later of course to be joined by Terry Sullivan and Michael Dunford.
There followed many years of wonderful times, from arriving in New York and rushing to Manny's Music Store to buy equipment for the concert that night supporting 'Stories' (who were no. 1 in the charts with 'Louie, Louie') at Brooklyn College and walking on stage to a standing ovation before a note was even played to the concerts at Carnegie Hall in New York, the Royal Albert Hall in London, Penn's Landing in Pennsylvania and the Greek Theatre in Los Angeles-there are just too many to list.
Jon's dedication to taking the bass guitar to new levels and exploring it's endless possibilities began to pay dividends and when he appeared in the 'Melody Maker' poll of the top ten bassists three years in a row he felt he was at last doing justice to his chosen instrument.
Once again the saga of 'Renaissance' is well documented and should there be any specific period that interests visitors to this website Jon will be only too pleased to answer any questions-that way this biography will be more succinct.
During his time with 'Renaissance' Jon met many people both in an out of the music business-one of these was the great Roy Wood.
They formed an instant bond and soon he was playing in Roy's band whenever his schedule with 'Renaissance' allowed.

It was around this time that Jon started to pick up the guitar again and invested in some keyboards-he was keen to see what he could achieve on his own.
In 1986 Jon decided that the time to leave Renaissance had finally arrived. 
Through the Roy Wood connection he had met Robin George(he played guitar in the band) and Robin was embarking on a solo career which involved a world tour with REO Speedwagon and Jon took the bass players position. Musically this was a much more rock orientated band and Jon enjoyed himself immensely as he had always hankered after playing in this style.
It was while the band were rehearsing at his studio in Shropshire that a new keyboard player was recruited, his name was John Young and as it turned out the two of them would go on to form 'Cathedral' a band of very experienced musicians who produced some of Jon's favourite music to date.
The band signed a publishing deal with Warner-Chappell Music but due to the financial commitment that would be required to put them in the studio and on the road a record deal was never forthcoming- however a good deal of material was recorded at Jon's 'Esprit Studios' at his home in Hinton, Shropshire and although only intended as high quality demos he has decided that they should be released and will shortly be available ....
Jon's most recent foray into live performance has been with legendary trio 'The Groundhogs' whose albums 'Split' and 'Thank Christ for the Bomb' were landmarks in '70's British rock.
As we write Jon has completed material for his first solo album which will be recorded at his home in Staffordshire